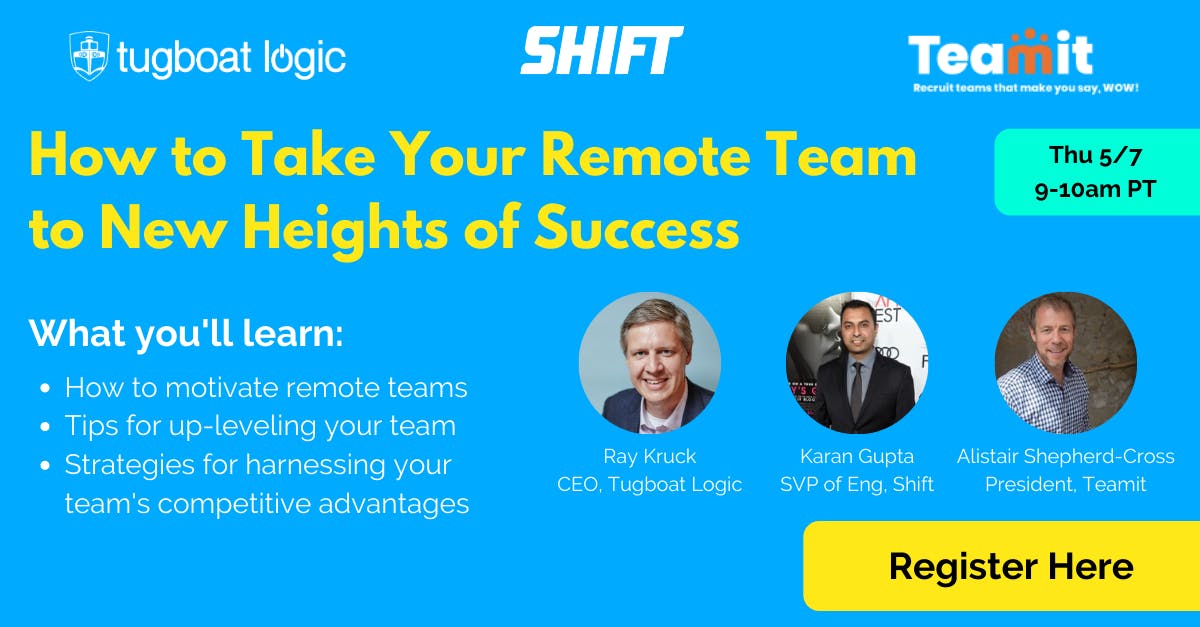 Five months into 2020, and we're already seeing permanent shifts in the way we live and do work. Remote work, once thought a perk that forward-thinking companies offered, is here to stay. Despite this change, hiring top talent and motivating your team to new performance heights in this brave new remote working world remains the same, but with different nuances.

Join the President and Founder of Teamit, the SVP of Engineering of Shift Technologies (yep, the company that's brought the process of buying and selling used cars into the 21st century), and the Founder and CEO of Tugboat Logic (the start-up that takes the misery and mystery out of security and compliance for companies like Schneider Electric, Heap, and Act-On) for this online panel discussion on their experiences managing distributed teams and their recommendations for taking remote teams to new heights of success.
What You'll Learn from This Panel Workshop
How to motivate and manage remote and distributed teams, especially in this economic environment
Best practices for leading your team to even greater heights of success
Ways to harness your team's competitive advantages and quickly apply to them for long-term success
When Is It and Where to Sign Up
Thu 5/7/20 9:00 AM – 10:00 AM PDT
Sign up here
Recording will be emailed to you whether you're able to make it or not
Meet the Speakers
Ray Kruck, Founder and CEO of Tugboat Logic
Ray has spent over 20 years in the software industry building teams, building companies, and always learning to be better. In 2011, Ray co-founded Nexgate with a breakthrough platform to help brands discover, monitor, and secure their brands social presence. Nexgate was acquired by Proofpoint (NASDAQ: PFPT) as their largest acquisition in 2014. In 2017, Ray founded and became CEO of Tugboat Logic, the start-up that takes the misery and mystery out of security and compliance for companies like Schneider Electric, Heap, and Act-On. In his spare time, Ray believes in paying it forward and giving back to aspiring entrepreneurs and his local community.

Karan Gupta, SVP of Engineering at Shift Technologies
Karan brings over 25 years experience founding and scaling tech companies and now as current SVP of Engineering at Shift Technologies, Inc., an e-commerce startup on a mission to bring trust and simplicity to the peer-to-peer used car market. He is seasoned in data-driven product development and growth strategy, having co-founded a multi-million dollar startup, Mammoth, a cloud SaaS startup built to collaborate on shared projects with file sharing, wikis & real-time messaging. Mammoth served users from 80+ countries until it was acquired by Prysm in 2016. Prior to that, he ran collaboration at Sony PlayStation across US, EU & Japan, was accepted into AngelPad, and in 2002 was invited to be a member of Mensa. He is an innovator and has first had extensive experience building high performing remote technical teams. He is passionate about music and loves motorcycles.

Alistair Shepherd-Cross, President at Teamit
For the last 20 years, Alistair has had a front row seat to the tech industry's ups and downs as a trusted advisor to some of the tech industry's most successful businesses in both Canada & the US. As a tech recruiting specialist, he has connected Canada's top tech talent with companies as they scale, and has a unique perspective on the challenges and opportunities for leaders pursuing high-performing teams in challenging times.